The Formula for Façade Versatility, Durability
 In the search for creative and unique building envelope materials, architects and specifiers can choose from a wide variety of options to realize their vision for a building. When specifying a material that delivers aesthetic versatility along with long-term performance and durability, metal plate can quickly rise to the top of the consideration set.
Metal plate is beneficial for a variety of projects where durability is critical for an important reason: It is corrosion- and abrasion-resistant. These properties ensure the metal plates last longer, require less maintenance, and are less prone to damage from the elements.
In addition, solid metal plate delivers noncombustible properties to meet stricter building code requirements such as the ones recently adopted in major metropolitan areas that include New York City. In conjunction with other noncombustible wall system components, the use of solid metal plate can eliminate additional testing and inspections from the construction process and can often translate into lower insurance costs.
 When you also factor in the possibilities available for design freedom, the differentiation becomes even more apparent.
Aesthetics & Design Choices with Metal Plate   
Specifying metal plate for a building's exterior begins with an examination of the right size and profile for the panels based on the requirements of the project. Architectural-quality solid aluminum plate is available in a variety of sizes. Designs that optimize common coil sizes unleash the most value and the highest durability.
Solid metal plate is highly customizable. The most common metal plate material is aluminum plate, which is light and has excellent formability characteristics. Plate can be rolled to a variety of profiles and maintain its shape with little reinforcement. In addition, it can be welded and polished for a high-quality appearance.
After the product is fabricated, the appropriate coating enables provides comprehensive coverage and protection for each component. Powder coating, anodizing, and PVDF wet-coating systems provide architects with an endless array of colors and textures to bring their imaginative designs to life.
In many designs, curtainwalls, windows, louvers, and doors are coordinated with the facade wall panel joint modules. Plate panels can be easily coordinated with these openings to provide a clean appearance.
Aluminum has high strength-to-weight ratios, allowing designers to add cantilevered features such as brows, cornices, canopies, or sunshades that match the facade panels. This expands the ability of a discerning designer to distinguish the building's style and impact while still maintaining a vertical and simplified drainage plane within the exterior wall system.
Making Sustainability a Priority
Today, 75 percent of the aluminum in use was removed, collected, and recycled into its current state. The strength, versatility, corrosion resistance, and conduction properties of aluminum make it a desirable material as consumers and manufacturers seek more sustainable building product solutions, whether it is based on building codes, the need to achieve LEED certification, or a combination of both.
Solid metal products sourced domestically expend the least amount of carbon and energy. The aluminum smelting takes place domestically, the forming and milling takes place locally, and the fabrication and coating take place locally. When the product is finished, it can be recycled and used for a new project or application since it contains no plastics or foams.
Additionally, metal plate contains no toxic plastics that create dangerous health and safety risks during installation, demolition, or in the event of a fire. 
Case in Point: Admiral's Row, Brooklyn Navy Yard
Expressing the structural grid of the building using exoskeletal designs is a rising trend. Such an approach to design also ensures the building façade is engineered to protect the structure and its inhabitants from the elements. These shapes can even be replicated in aluminum at the column or slab locations to appear as if they are in the structure as well.
In Brooklyn's historic Navy Yard, the project team was able to reinvigorate remarkable structures to deliver retail, commercial, and light industrial space, making it a public destination for residents and visitors across the five boroughs. For Admiral's Row, architects envisioned a modern yet industrial aesthetic, highlighted through the building's grid-like facades and the use of weathered steel, painted metal, and fiberglass.
Metalwërks fabricated 82,000 square feet of aluminum plate panel units, replicating large steel beam and channel profiles to capture a modern motif reminiscent of the Industrial Era. The assembled panel units of extruded and formed panel shapes complete with mineral wool insulation were shipped to the site ready to install onto the waterproof membrane, gypsum sheathing, and stud backup. The final product effectively brought the building into the 21st century when it came to durability and performance while evoking the structure's history in terms of curb appeal. 
Case in Point: National Museum of the Army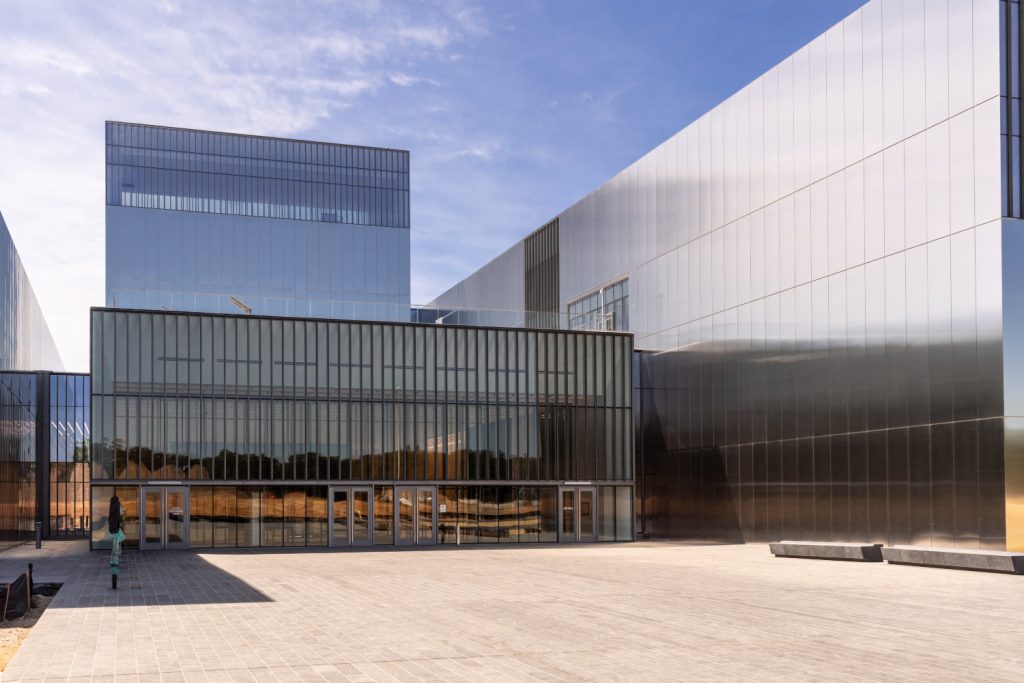 Thinner material tends to show more waves and less flatness, known as oil canning, on large, flat surfaces. Plate panels are much flatter and stiffer than thin gauge materials.
The National Museum of the Army showcases over 240 years of army history and offers a glimpse into the future. The three-story building is formed by five pavilions that are connected by glass thresholds. Metal fins at the corners of each add texture and a dynamic sense of movement to the facade. 
The conventional building exterior rainscreen wall system for the National Museum of the Army was installed over structural metal studs and exterior grade gypsum sheathing covered with a weather-resistant barrier. Metalwërks products are an integral part of the facade with 110,000 square feet of Arcwall™ Spline covering most of the exterior. The vertically oriented wall panels feature a laser-cut edge for a crisp, sleek floating appearance and incorporate a recessed spline reveal finished in a nondirectional satin stainless steel.
Making the Choice
When specified and detailed for projects, metal plate panels can last the lifetime of a building. The durability is unmatched, and the versatility is endless, opening worlds of possibility for designers and building owners.
Imaginative architects can leverage high-strength metal plate to deliver remarkable exteriors more affordably, from bold angles to curvilinear forms that impart texture, movement, and rhythm.