KENNETT SQUARE, PA…Metalwërks announces that it will no longer provide subcontracted installation of metal panel work, and will instead focus its efforts entirely on designing and manufacturing its solid metal products.
The company aims to increase the reach of the Metalwërks brand and better complement its capabilities in the design and manufacture of architectural products. There will also be a focus on improving and innovating the Metalwërks product lines and increasing the company's production resources.
With this announcement comes a new website – www.metalwerksusa.com – that reflects the company's updated branding, two new rainscreen wall systems, and updates to existing product names. Metalwërks introduces the following new products: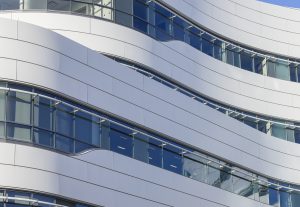 • Sculpted™ 3D* – An innovative dry-set rainscreen system that features three complementary and interchangeable wall panel design schemes that produce the boldest three-dimensional forms possible. Sculpted 3D is engineered for optional integrated features, including:
o Vegetative planters and irrigation for living walls
o LED lighting for a stunning wall washing effect or backlight effect
• Ameriplate™ – A solid metal plate wall system designed so that the factory-finished edges of the faceplate material are the panels' edges. This makeup, in combination with several unique concealed attachment joint arrangements, allows the system to achieve a fascinating floating panel effect.
Metalwërks has re-named a number of existing architectural products:
• Omniplate 1500™ – Formerly Arcwall 1500
• Omniplate 2510™ – Formerly Arcwall 2510
• Arcwall™ – Formerly Arcwall DBV
• Arcwall Advanced™ – Formerly Arcwall Plate Pressure Equalized Rainscreen
• Econowall™ – Formerly Arcwall Interlok Plank
• Metalwërks® Column and Beam Cladding – Formerly Metal-Lok Column and Beam Enclosures
"We are very excited to re-introduce ourselves to the marketplace as Metalwërks, the manufacturer," says Stephen Scharr, the company's Owner and Director of Business Development. "Drawing on our extensive experience with product development, construction, and design, this change in direction will allow us to focus entirely on unparalleled products and systems to help architects achieve new levels of form and function on building exteriors. We see great opportunities and potential for Metalwërks and all of its clients."
Metalwërks will continue to work with national and regional glass, ornamental metal, and panel companies, as well as architect and design firms, to provide the quality products that the contracting community has come to expect from the company.
About Metalwërks:
Founded in 1968, Metalwërks is the leading U.S. manufacturer of precision high-performance metal plate exterior facade systems, integrated curtain wall components, and custom architectural features. The company works in close collaboration with top architects to achieve new levels of form and function in systems precision-manufactured from solid metal plate. Metalwërks is unparalleled in the quality, diversity, integrity and reputation of its systems, services, and employees. For more information, visit: www.metalwerksusa.com.
*Patent Pending