Metalwërks founder, Jean Scharr, who headed the company from 1968-1989, passed away in his home in Sarasota, FL on August, 28, 2014 at age 85. Metalwërks is a family-owned product manufacturer and specialty contractor of architectural metal cladding and ornamental metal.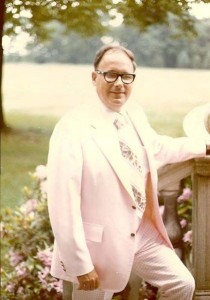 Scharr was born November 13, 1928 in Philadelphia and grew up in the Drexel Hill area where he attended West Catholic High School and St. Joseph's University graduating with a B.S in 1953.
In 1968, Scharr was employed by Merchant & Evans but decided to apply his strong work ethic and talents to his own company to better serve his customers' needs. With a family of five children and nine Irish setter puppies to support, Scharr took a leap of faith and started the company known today as Metalwërks in the basement of his home in Chadds Ford, PA. As the business and customer base grew, it became necessary to lease warehouse space to house inventory and fabrication equipment. After two location changes due to expansion, Metalwërks is now headquartered in Kennett Square, PA, where Scharr built its office and shop in 1978. Scharr's vision for the company relied on a simple platform: "Find out what your customers need—go out—and get it for them." As the business grew, a subsequent corollary became: "If you can't find it, make it."
One of Scharr's greatest skills was something he learned from his father and is an entrepreneurial value still embedded within the business today. That is to analyze an opportunity from all perspectives for maximizing profits and to not be afraid to forge a new concept or product to explore that opportunity. The Metalwërks brand grew out of these basic concepts.
Scharr, retired in 1989 when the business was purchased by his sons Stephen, Peter and Paul. In 2002, the company grew into another larger location based in Elkton, MD, which houses the entire production facility today.
Some of Scharr's diverse interests included golf, dancing and traveling. He was long-time member at Kennett Square Golf and Country Club and more recently, a member at Bent Tree in Sarasota; FL. His travels included the Out Islands of the Bahamas, Mexico, Canada, Australia, France, Hawaii and many trips from West Coast to the East Coast.
In addition to founding Metalwërks, Scharr was a dedicated husband, father, and grandfather. He was married for more than 50 years to Betty Jane Maxwell, who passed away in 2004 and is survived by daughter Sandra; sons David, Stephen, Peter, and Paul; seven grandchildren and three great grandchildren.
A local memorial service for family and friends will be held in St. Cornelius Catholic Church, 160 Ridge Road, Chadds Ford, PA on October 2, 2014 at 10 am. Scharr made a bequest to his alma mater, St. Joseph's University in Philadelphia, PA. In lieu of flowers, donations to the St. Joseph's University scholarship fund are appreciated. To make a donation, please visit www.sju.edu.