Look at What's Behind the Curtain
Architects and designers are constantly seeking ways to set their solutions apart, to stand out in ways that get them, their firms, and their building designs noticed. That often comes in the form of specifying cutting-edge products that take advantage of the latest in material science or up the ante when it comes to sustainability.
What happens when a design plan must find a way to mask a part of the building's infrastructure that is critical to its functionality but lends little to its curb appeal? As the name implies, a screenwall is exactly that: A wall that screens or hides unsightly building elements. These can be anything from rooftop HVAC units, privacy screening, to harsh garage lighting in a multifamily complex or residential neighborhood.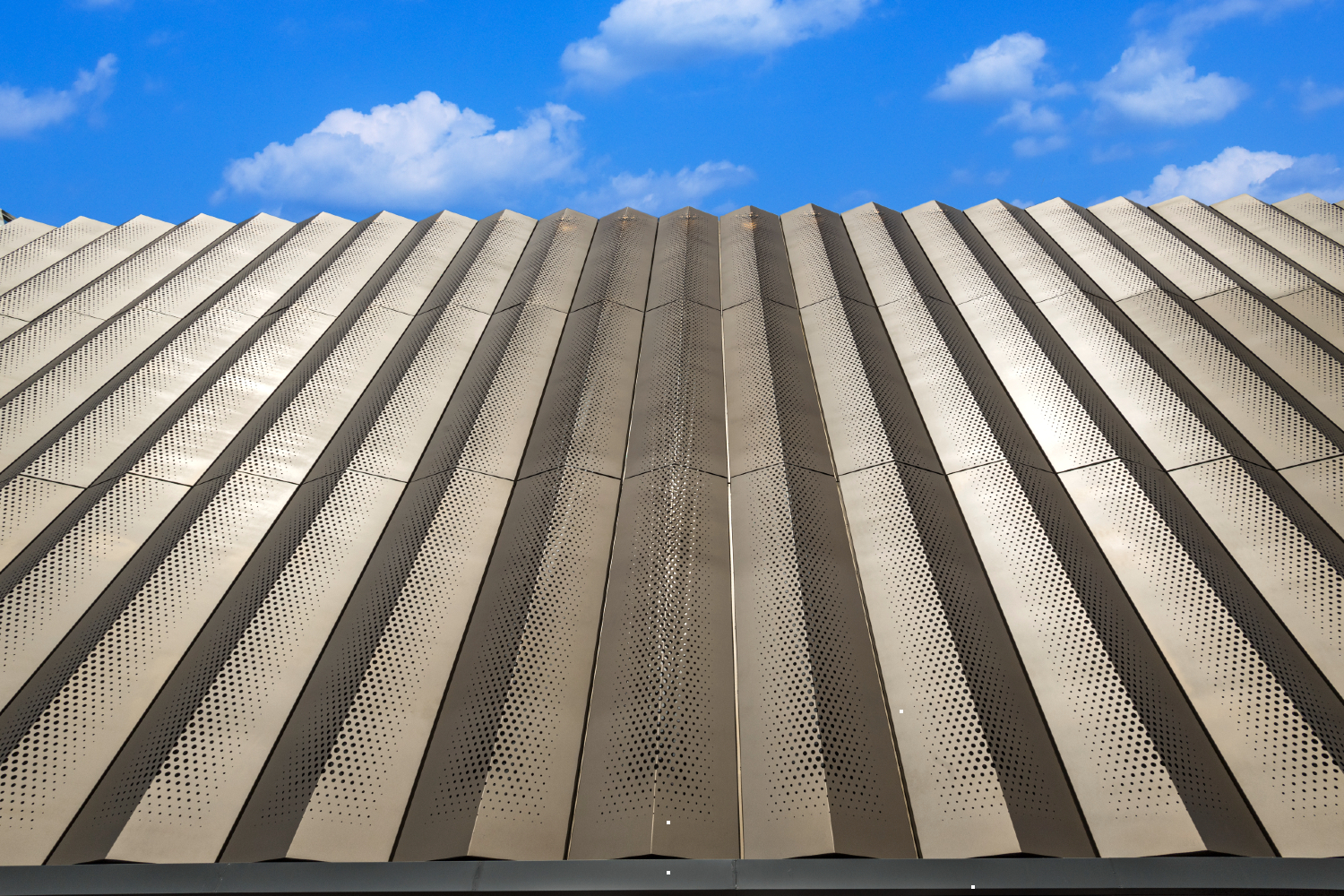 Screenwalls are manufactured from a wide variety of materials, including formed or extruded metal profiles, perforated metal panels, woven architectural mesh, and bar grilles. These systems are engineered to ensure structural integrity from the outside face of the cladding element to the primary building structure.
The core purpose is innocuous. In its basic form, a successful screenwall is one that goes unnoticed. At the same time, a screenwall need not simply be a bland, benign partition. In fact, screenwalls can be an architect's best friend when it comes to making steel-and-concrete creations shine. Some have used them to blend construction into multi-use retail complexes, upping the ante on an architectural statement.
Decorative patterns, stamped logos, bright colors, and unique geometry can transform the humble screenwall from solely a means of obscurity to an architectural element or even a featured element of a building's design.
Driving Aesthetics: The Architectural Value
When used strategically, screenwalls create another avenue for expression for developers and designers alike. Though building tops and parking garages continue to be the most frequent uses, screenwalls transform these elements into designs that add beauty and utility needed for vital, demanding projects.
Substantial consideration can be given to how screenwalls are installed, limiting the field resources and expenses required once the project is underway. For example, custom perforated bulkhead assemblies can incorporate tubular framing elements that keep the number of clip anchors to a minimum for an easy installation with a smaller crew. This can translate into cost savings or solving logistical site challenges.
Patterns, colors, and visual textures are all available. So too are materials, with painted aluminum and stainless steel being the top choices for facades that are resilient, long-lasting, and noncombustible.
A Smart, Sustainable Solution
Everything about metal screenwalls has been produced to be kinder to the environment and to help architects achieve LEED certification.
In manufacturing, screenwalls are produced with virtually zero waste. In transport, panels are delivered to the job site ready for installation and without additional site fabrication. Smart manufacturers even ensure that the crating is designed for recycling.
Should a building owner seek to remodel down the line, the panels themselves can be easily recycled, particularly if they were not fused to plastics or foams.
Designed to Perform
Parking garage applications are where screenwall performance is the most visible up close. Vented panel walls allow for thorough air exchange, essential for a location where visitors are exposed to potentially dangerous car exhaust.
But screenwalls also meet the demands associated with decorative skyscrapers on the other side of the building spectrum. For example, architects specified screenwalls for 701 Seventh Ave (20 Times Square) Marriott EDITION Hotel, where they had to not only withstand the high winds of a tall building, but also serve as the hotel's decorative crown.
Screenwall panels can easily serve as an advertisement or brand feature. Accent lighting options abound. And for buildings that face strong evening sun, screenwall solutions can also be incorporated into solar shading devices.
Case in Point: Hood Park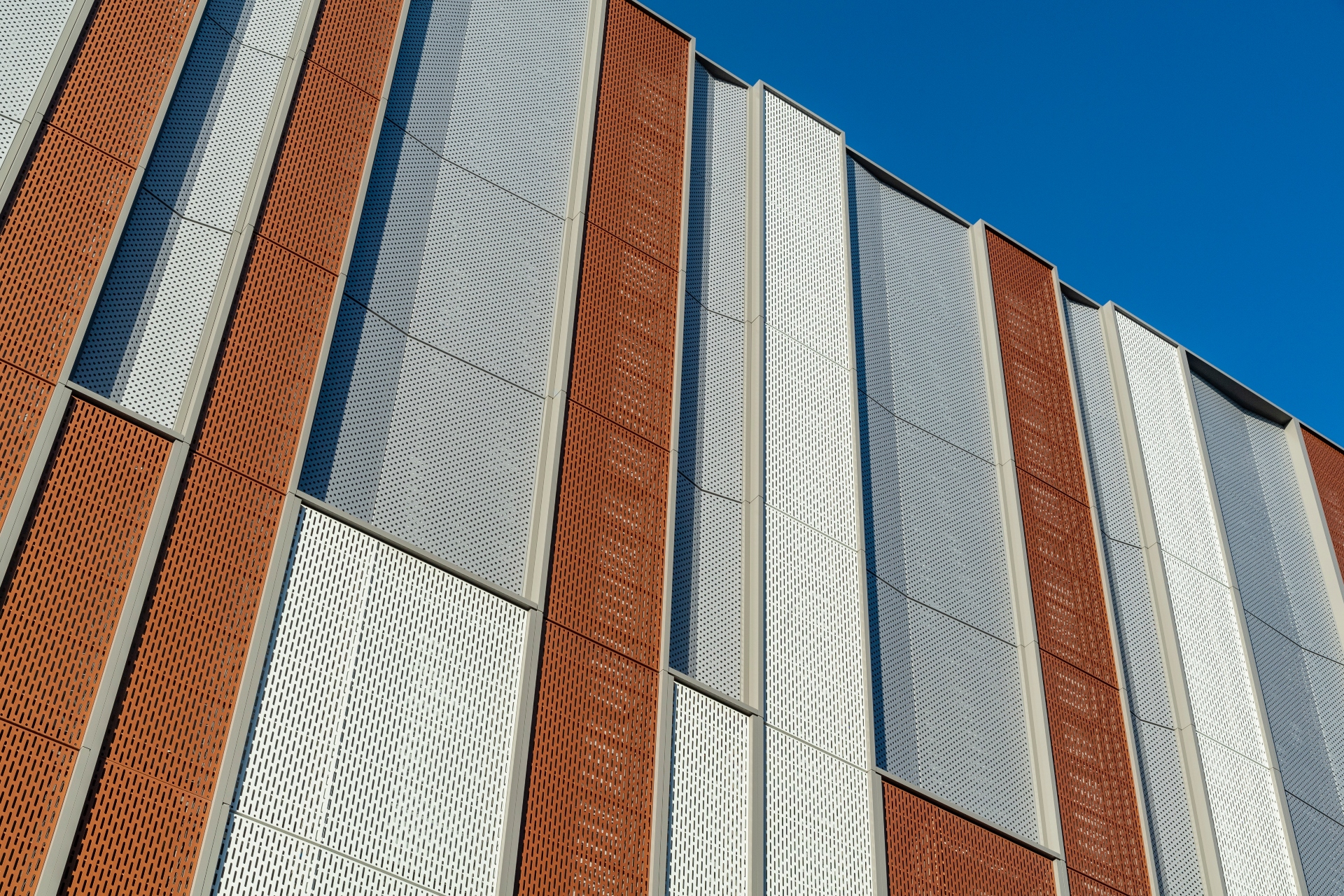 Situated in the Boston neighborhood of Charlestown, Hood Park is a master-planned urban campus that is transforming a section of the city dating back to the 17th century. New development on the 20-acre site is set to include offices, restaurants, retail establishments, laboratory/research space, and parks and green spaces. One of the structures that anchors the entire development is 100 Hood Park, a mixed-use building that combines retail and commercial space with an expansive parking garage.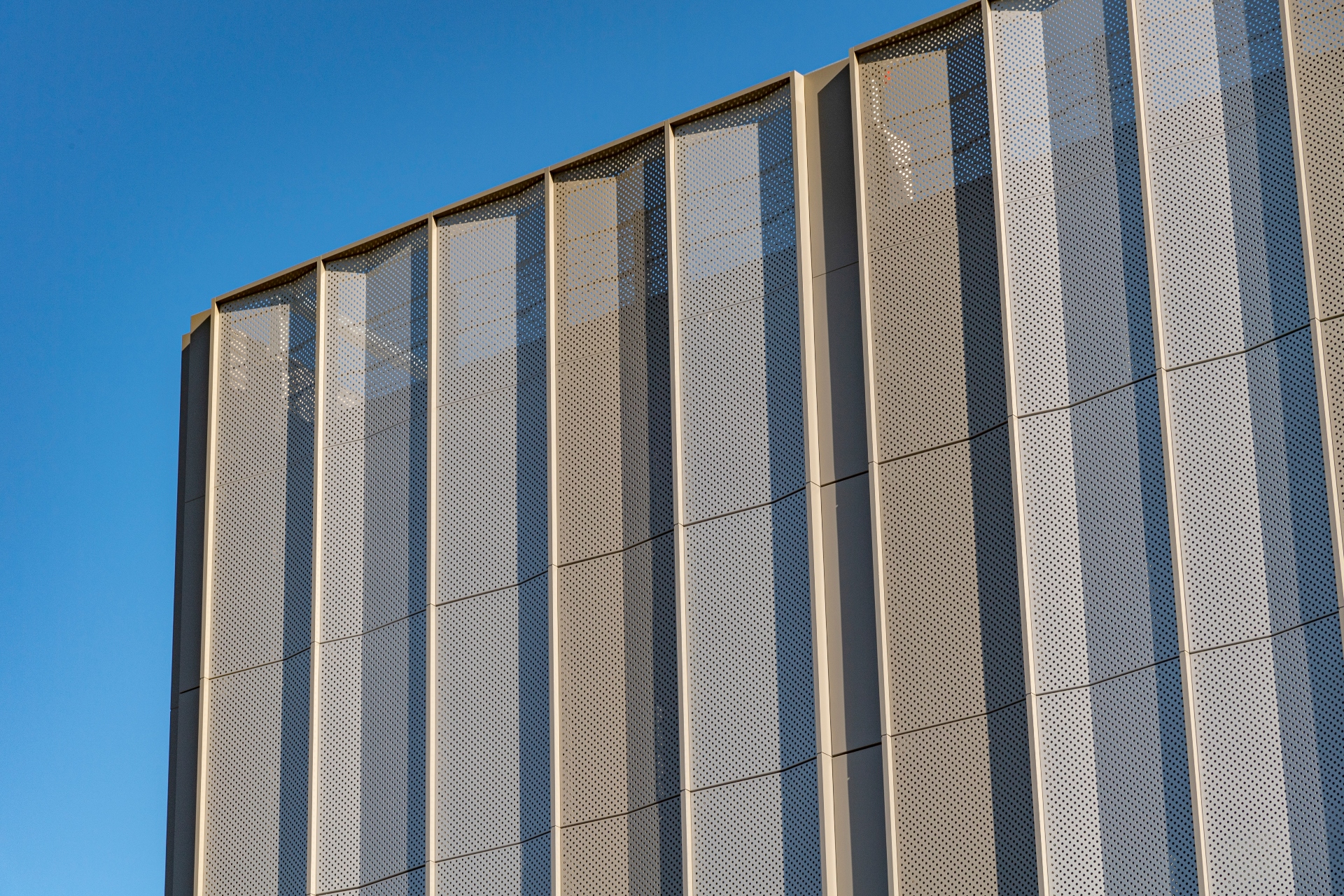 One of the challenges faced by the architects involved the parking structure, which occupies four floors and has nearly a thousand spaces for cars. One side of the garage sits directly across from a new residential building with apartments. Designers had to find a way to diffuse the headlights that would shine at night from the parking garage, thereby minimizing disruption to people living across the street.
The preferred solution: various customized perforated aluminum screenwall systems that covered more than 40,000 square feet of the garage's exterior, with walls differing at each elevation. The visually interesting and multi-faceted solutions minimize the impact of headlights from the cars at night and allows for constant air flow and ventilation on different sides of the parking garage.
Case in Point: 130 William Street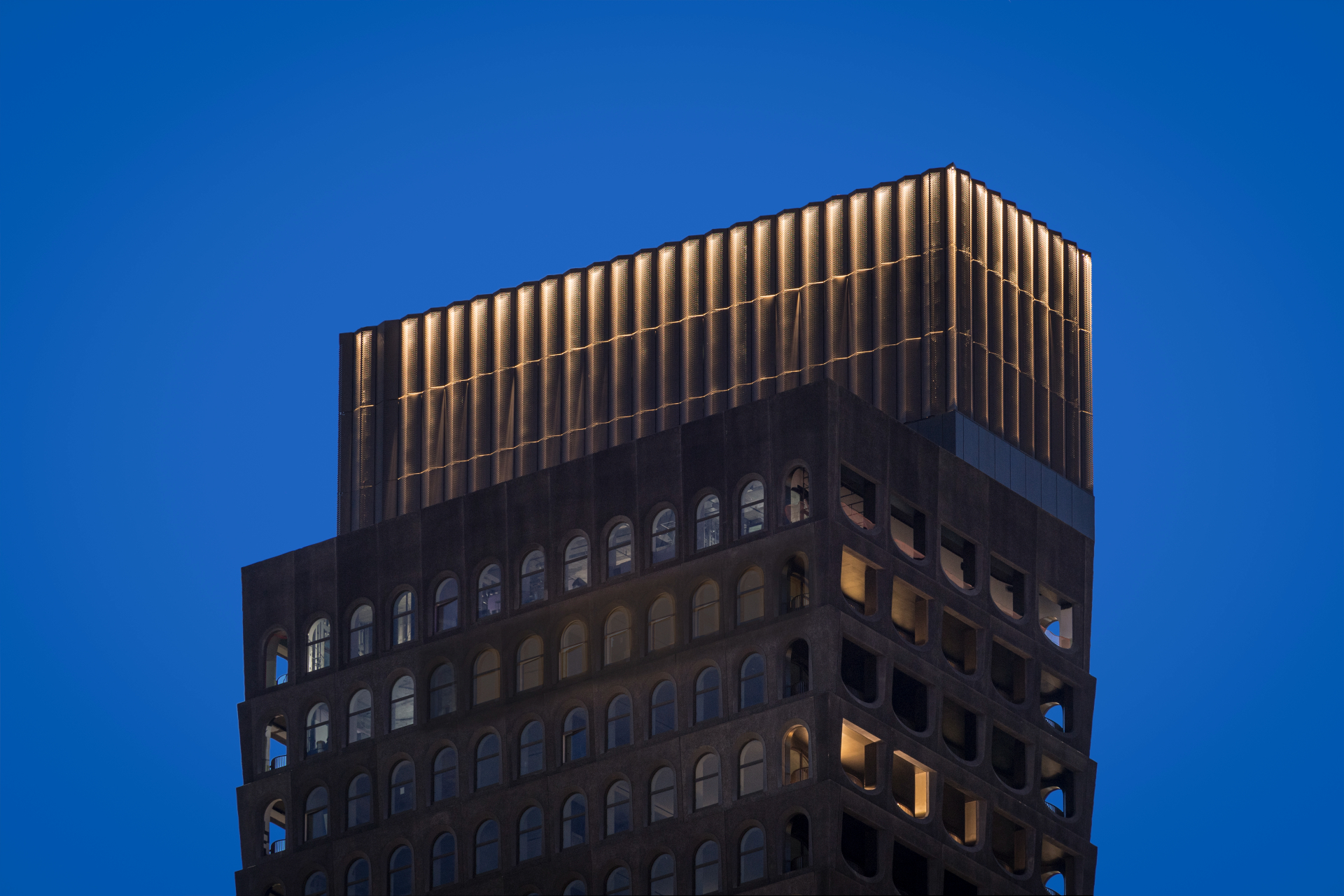 A 66-story condominium in the heart of New York City's financial district that stands 800 feet tall, 130 William Street reflects the history of the city and stands out with a façade of textured concrete panels. The building includes a health and wellness center, a spa, a basketball court, a yoga studio, a private theater, a golf simulator, an indoor-outdoor lounge, and an open-air observatory.
Surrounding the top levels, custom unitized perforated screenwall assemblies created a modern crown for the building that glows in natural sunlight. Designers wanted to create a gradual perforation pattern and introduce a lighting element that would illuminate the screens from top to bottom within the panel cavity at night. The unique color, profile, and patterns contrast with the precast masonry façade of the tower and deliver eye-catching appeal in the New York City skyline.
Behind the Curtain
Too frequently an overlooked element of a building's design, modern screenwalls are far more sophisticated and versatile than many realize. Their use is a direct extension of the architect's creativity. They can be as noticeable or as hidden as desired. Add in their ability to drive sustainability credentials for the entire project and their durability in a wide variety of environments, and screenwalls become an important part of the consideration set when specifying building elements that contribute to both aesthetics and functionality.